Key events
Thanks for reading this MBM. Stay safe and warm, everyone. Nighty night!
Erik ten Hag's turn. "We controlled the game. We scored a good goal. I would not say it was a top performance, it was OK, we were in control. A great save, it was the only chance Crystal Palace produced. We have to invest more for a second goal, at 2-0 the game is over. Now you get hammered with an unlucky moment in the end. It was difficult to react though we had a chance for 2-1 with Casemiro, but we have to take the lesson. Invest more for the second goal."
As for Casemiro's booking? "It was instinctive. He went for the ball but missed it. It could have been a dangerous situation so he wanted to stop it. So that was his reaction. But as I said, if you invest more for the second goal, you don't have such situations. The last time we beat Arsenal without Casemiro, so this time we have to do the same. We will make a plan."
… and Weghorst's debut? "He did quite well. He has to make adjustments, he doesn't know our way of playing. It was a short briefing to bring him in."
Patrick Vieira talks to Sky Sports. "I think we deserved the point. It was really challenging against a really good side. Their technical ability to move the ball around, we found it really difficult to close them down and put pressure on the ball. But we managed to stay in the game, and in the last 15 minutes we started to put a little more pressure on them. We won free kicks and second balls, and Michael scored the free kick. I'm really pleased for the players because it was tough, we worked hard, and in the end we were rewarded. I saw organisation, good team spirit and communication on the field. We kept our discipline. We did not leave too much space. I am pleased because the game was tough. We needed some luck, but that luck, we provoked it. It was important not to lose today. We showed resilience and it was important to stop the bleed. We got what we deserved."
Some hot managerial reaction still to come, so don't go anywhere yet. Still, why not open up another tab and get involved with Ed Aarons' match report, straight down the wires from Selhurst Park and hot off the press!
Wilfried Zaha speaks to Sky Sports: "The goal was amazing. We know we've got the talent in the team and one thing the gaffer has cracked on about is contesting the games. The talent shows through in the end, and we managed to get a point. It was the difference today: a never-say-die attitude. Every 50-50 going in at 100 percent, and we got what we deserved. We nearly won it at the end! I was running through and looked back and thought, God, it's Aaron [Wan-Bissaka]! He's the only one that can do that scoop tackle. It was a great tackle. I can't say anything about it!"
Will Hughes adds: "We've been going through a difficult period and sometimes you need a bit of magic. It was a good point in the end. Hopefully it will give us a bit of momentum and belief. They're a top team so to go toe to toe with them and get a point is a good feeling."
The colour quickly drained from Erik ten Hag's face back there. His Manchester United team were so close to making it ten wins on the bounce in all competitions, a victory that would have taken them into second spot in the Premier League. They looked in control for most of the second half. But Crystal Palace refused to give in, moved through the gears during the final exchanges, and levelled with one of the goals of the season. Given that United controlled most of the play, but David de Gea also had to make a couple of top-drawer saves, a point apiece seems about right. United will be sick, though, at the end of an evening that unravelled for them during the last ten minutes: as well as conceding the late equaliser, at the cost of two precious points, they'll now have to go to Arsenal at the weekend without Casemiro, who picked up his fifth booking of the season (and was arguably lucky not to see red). Plenty to pore over all right.
FULL TIME: Crystal Palace 1-1 Manchester United
The whistle goes. It won't be ten wins in a row for Manchester United, thanks to an astonishingly good injury-time free kick by Michael Olise.
90 min +4: Zaha chases after a long pass down the middle. He enters the box and for a nanosecond Palace dare to dream, only for Wan-Bissaka to deny him with a stunning last-ditch intervention!
90 min +3: Casemiro wins a corner for United on the right. Fernandes delivers the corner along the corridor of uncertainty. Casemiro attempts to trundle the ball home at the far stick, six yards out, but the ball brushes off his thigh and away! What a miss!
90 min +2: That came in the first of four added minutes. Olise hardly celebrated, seemingly stunned by his own brilliance.
GOAL! Crystal Palace 1-1 Manchester United (Olise 90+1)
What a goal this is! What a strike! Olise takes the free kick and rifles it over the wall and into the top-right corner. Right in the postage stamp, at 101 miles per hour! The ball pings off the underside of the bar, rebounding down and up into the roof of the net, in a very aesthetically pleasing style. What a free kick!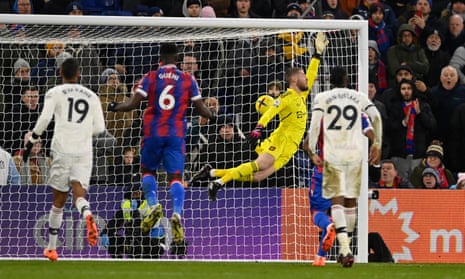 90 min: Schlupp hares down the right and is brought down by a combination of Shaw and Fred, nipping away at him from behind. A free kick in a very dangerous position!
89 min: Rashford takes down a long pass on the edge of the Palace box. But he can't force his way past Richards. Rashford flings his arms in the air in frustration. United then come again through Wan-Bissaka down the right, but his cross is easy pickings for Guaita. All of the action is happening at the wrong end of the pitch from a Palace viewpoint, as they look for a late equaliser.
87 min: Rashford probes down the left but can't worm his way into the Palace box. He's forced to turn tail, but it's a dribble that's eaten up quite a few precious seconds. Time is not on Palace's side.
86 min: Zaha drifts in from the left and looks to plant a spectacular shot into the top right. Earlier in the move, Mitchell beat Fernandes to the ball and was rewarded with a cynical clip on the ankle for his trouble. United have lost their earlier sangfroid.
84 min: Milivojevic comes on for the suddenly ragged Hughes.
82 min: United were preparing to replace Casemiro with Fred, too. Now there's no need to protect or rest him, so Eriksen makes way instead.
81 min: Eze curls a lame free kick towards the left-hand side of the United goal. Easy for De Gea.
80 min: Zaha races down the inside-left channel and Casemiro brings him down with an absurd scissor action. Studs scrape near the knee. It's a yellow that will rule Casemiro out of the Arsenal game this weekend. That's not ideal, but you've seen red cards handed out for much less.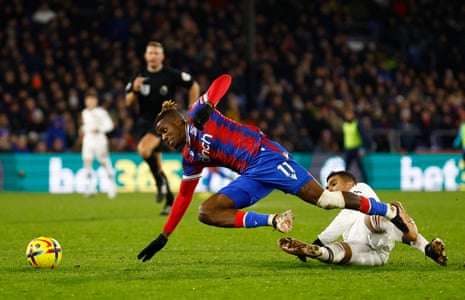 78 min: Wan-Bissaka and Fernandes nearly open Palace up down the right, but the home defence holds its shape. A sense that there's another goal in this … but for who?
76 min: Palace pin United back for a few seconds. Ayew can't get his head on a cross from the right. McTominay tries to break clear only to be brought down spectacularly by Hughes, who goes into the book. "Don't be encouraging any Weghorst dancing until he settles in at Old Trafford," advises Justin Kavanagh. "We don't want to tip the Roy Keane Grouchometer up to 11 just yet."
75 min: … Guehi heads towards the top right. De Gea reacts and parries with a strong hand. Another fine save by the United keeper, who has arguably been the difference tonight!
74 min: McTominay grabs Zaha, who was making his way down the inside-left channel. It's a free kick. McTominay doesn't let go, and Zaha gives him an unfriendly shove. The referee tells them both to act their age, after which the resulting free kick leads to a corner on the right. From which …
73 min: VAR checks, and it's not a penalty. There's certainly nothing clear and obvious there. In fact it looks like Richards got a feathery touch on the ball, nudging it away from McTominay. We play on.
72 min: McTominay romps after a Fernandes pass down the inside-right channel. He goes down in the area with Richards challenging. Fernandes is furious, demanding a penalty. It's not given. But VAR will check.
71 min: Schlupp and Ayew come on for Edouard and Doucoure.
69 min: Weghorst's debut is over. He makes way for McTominay, while Antony is replaced by Garnacho. "Until we've seen Weghorst dance I'm afraid he's not allowed near the Crouchometer," rules Richard Hirst. Did you see Dan Burn's efforts the other day after his goal for Newcastle against Leicester? Two-point-five on the Crouchometer at best, and that's being generous.
67 min: Edouard chases after a long ball. He runs into Varane in the United box, and falls over, demanding a penalty kick. He's not getting one. As for Ellen … "Typical, Scott, expecting a woman to solve every problem," begins Liz White. "Where were the stewards? Surely one of them should have dealt with it; Ellen's probably past her galoot-tackling days."
66 min: Palace can't keep hold of the ball. United are bossing it in an unfussy fashion.
64 min: Rashford speculates from the best part of 30 yards. Full marks for effort, if nothing else.
62 min: United are in calm control here. "Weghorst reminds me of Peter Crouch. Tall, gangly, gets nine on the clumsy-meter." It's Jeff Sachs, who is fast becoming nearly as prolific an inventor as Edison.
60 min: Zaha advances down the right and wallops a low cross into the United box that nearly bagatelles its way to Edouard. United half clear, but Eze is afforded the opportunity of a shot from distance. He welts it hysterically off target.
59 min: This half has kind of pootled along so far. That will suit Manchester United fine. With a big game at Arsenal coming up, they're not having to put the pedal to the floor at all.
57 min: A galoot runs onto the pitch, puts his arm around Casemiro, and takes a selfie! Casemiro has the good grace to pose for it. Who do we blame for this sort of intrusive mobile-phone-infused carry-on, then? Ellen DeGeneres?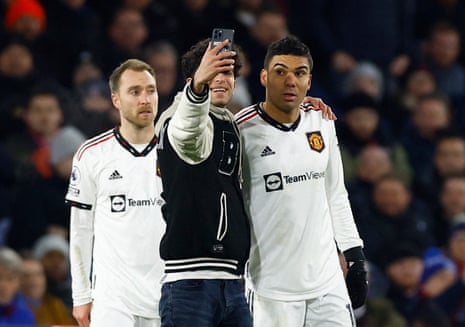 56 min: Palace aren't sparking up front, so it's time for a change. Mateta makes way for Eze.
54 min: Zaha probes down the right and dinks infield for Olise, who is tripped by Fernandes on the edge of the D. Palace don't get the free kick, and Selhurst Park erupts accordingly.
52 min: The United fans are doing most of the singing right now. Palace aren't putting their team under any pressure. On the touchline, Patrick Vieira crosses his arms in frustration.
50 min: From a United corner, Antony aims a curler towards the top left. The effort sails miles over the bar. Palace counter and waste a corner of their own.
48 min: The free kick-cum-corner is no good. United clear with ease. "Moyes binned if West Ham loses to Everton, Lampard binned if Everton loses, what happens if they draw?" wonders Mary Waltz. Ah, the culmination of a decades-long do-si-do, everyone finally ending up back in their original positions.
47 min: Palace counter and Olise spins cutely past Martinez on the right wing. Martinez tugs him back cynically and goes into the book. A free kick right by the corner flag.
46 min: There's barely a minute of the second half played when Wan-Bissaka tears down the right and cuts back for Fernandes, who shoots hard into the startled face of Hughes. There was some venom behind that shot.
United get the second half underway. No changes. "At this rate, Weghorst will get a seven," writes Jeff Sax-Sechs (34 min), who nevertheless also asks: "When did I patent the Nunez-o-meter?!?!" I think Rob Smyth filed the paperwork for you a couple of weeks ago.
Half-time reading … and there's trouble at mill for one of United's old pals.
HALF TIME: Crystal Palace 0-1 Manchester United
Palace defended well during that first half, only to fall asleep just before the break. Bruno Fernandes pounced. As things stand, United will move into second place tonight.
45 min +2: That goal came just a couple of minutes after De Gea's world-class save. The margins can be tiny in the Premier League.
45 min +1: United have scored first in ten matches this season. They've gone on to win all ten.
45 min: There will be three added first-half minutes.
GOAL! Crystal Palace 0-1 Manchester United (Fernandes 44)
This was too easy. Rashford rolls a pass down the inside-left channel to release Eriksen, who cuts back for Fernandes on the penalty spot. Fernandes has time to take a touch before lashing viciously into the top right! A fine move, but Palace's defence seemed to fall asleep en masse there, and United didn't need asking twice.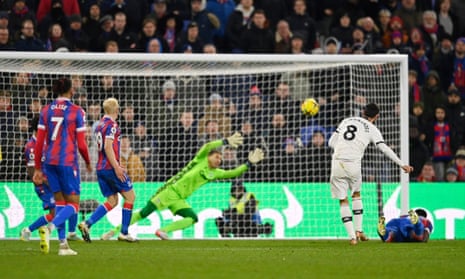 42 min: Antony makes his way down the right but can't get past Richards. The resulting corner is blootered clear after a brief exchange of weak headers.
41 min: Olise makes his way down the right and drifts infield. He rolls a pass down the channel for Edouard, who holds off Varane on the edge of the United D and sends a dipping shot up and back down towards the top-left corner. That's in, surely! But De Gea arches his back and, at full stretch, fingertips the ball onto the top of the bar and out for a corner, from which nothing comes. That was a wonderful effort and a simply sensational save!
39 min: … but Rashford sends an uncharacteristically poor effort well wide left. Guaita could have ushered that one wide with a fag on.
38 min: Shaw bustles in from the left and draws a clumsy foul from Doucoure. This is a free kick in Rashford's range, just to the left of centre, 25 yards out. The in-form striker's eyes light up.
37 min: Antony sends a harmless looping shot into the arms of Guaita.