I'm not going to lie… Trying to make sense out of the mid-range phone market in 2023 might be the trickiest part of writing about smartphones.
Some mid-range phones try to give you as much as possible; others give you just enough to keep you happy, and then there's the Samsung Galaxy A54, which is trying to strike a balance. However, what's unique here is that unlike Google and Nothing, for example, Samsung has more to gain, and (you guessed it) more to lose.What makes it even trickier is that the Galaxy-maker makes a gazillion number of phones every year. Of course, amongst them is the Galaxy "S" series, which must be taken into account when making the Galaxy "A" series – if the mid-range phones are "too good", users will have less reasons to buy a flagship. It's a balancing act that Samsung's been performing for ages.
In fact, the sales of the company's cheaper phones (particularly the ones cheaper than the Galaxy A54), actually tell us the South Korean brand is doing a better job in the budget segment – a bittersweet win considering the flagships "S" series would bring higher profit margins but struggle to move as many units as Samsung would wish.
But to make things more complicated, new mid-range Galaxy phones also must be better than their predecessors, and competing mid-rangers from other brands. And this is where the new Galaxy A54 might find itself in a bit of an existential crisis. Let's take a look…
Shockingly, Galaxy A54 looks older than the four-year-old Galaxy A51 – Samsung has some explaining to do…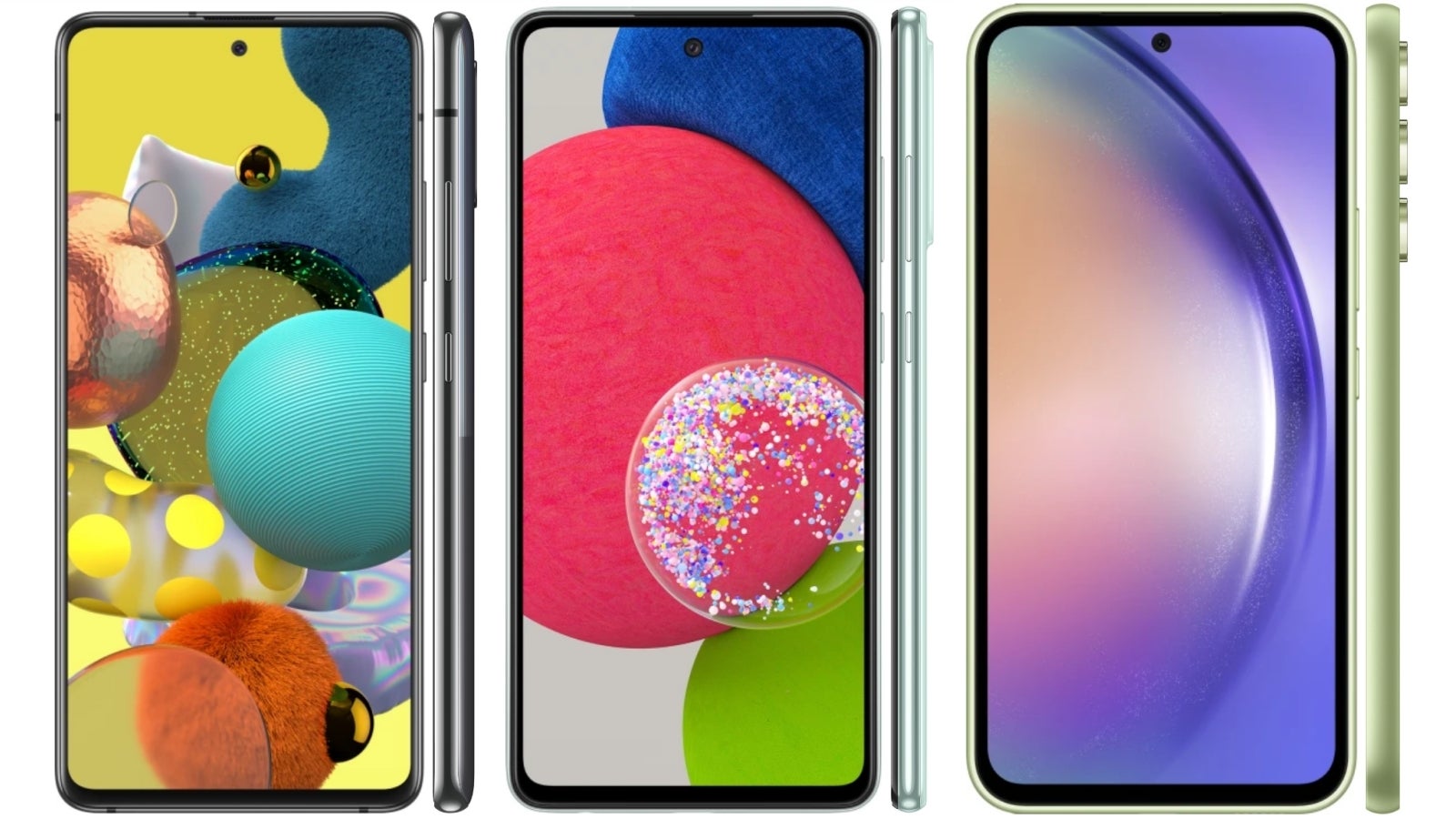 The 2019 Galaxy A51 on the left, the 2021 Galaxy A52 in the middle, and the brand new Galaxy A54 on the right. We see a trend of thicker display borders on the newer phones.
Now, before you tell me about the iPhone SE down in the comments (and by all means, feel free to do that) and how old Apple's mid-ranger looks, I'll go ahead and tell you that this story is about Samsung. But to jump the gun, as dated as the iPhone SE looks in 2023, at least it looks just as ancient as its predecessor.
I'm bringing this up to make a point. Surely, a new version of a phone shouldn't look older than the… old one. Are you with me? But that's not the case with the Galaxy A54. To give Samsung some credit, unlike the Galaxy A53, which used plastic, it looks like the back of the A54 is made out of glass, which is nice if you want a premium feel (not as nice if you drop your phone and break it, but that's a different story).
But then you turn the Galaxy A54 around, and you're looking at a displaysituation that's telling a slightly different story. Again, the screen on the new Galaxy A54 is meant to be slightly brighter compared to its predecessor (that's great) but then your eyes catch those big, black, beautiful… display borders.
Despite having a larger screen, the 2019 Galaxy A51 is more compact, more modern-looking, and 30g lighter than the Galaxy A54.
Sure, you'd expect the bezels on the Galaxy A54 to look thicker than those on the flagship Galaxy S23, but what had me surprised was that they make Samsung's 2019 Galaxy A51 look like a
phone
from
the
future
. Seriously, if next year Samsung launched the Galaxy A55 and it looked like the 2019 Galaxy A51. that'd be… an upgrade!
With that being said, although I'd argue most people choose a new phone by looking at it/holding it, aesthetic design isn't all that matters about a phone. And if that's where you expect things to pick up for the Galaxy A54, well… you might be surprised.
Cheaper Galaxy A34 with MediaTek chip beats Galaxy A54 running Samsung's Exynos in early real-world speed test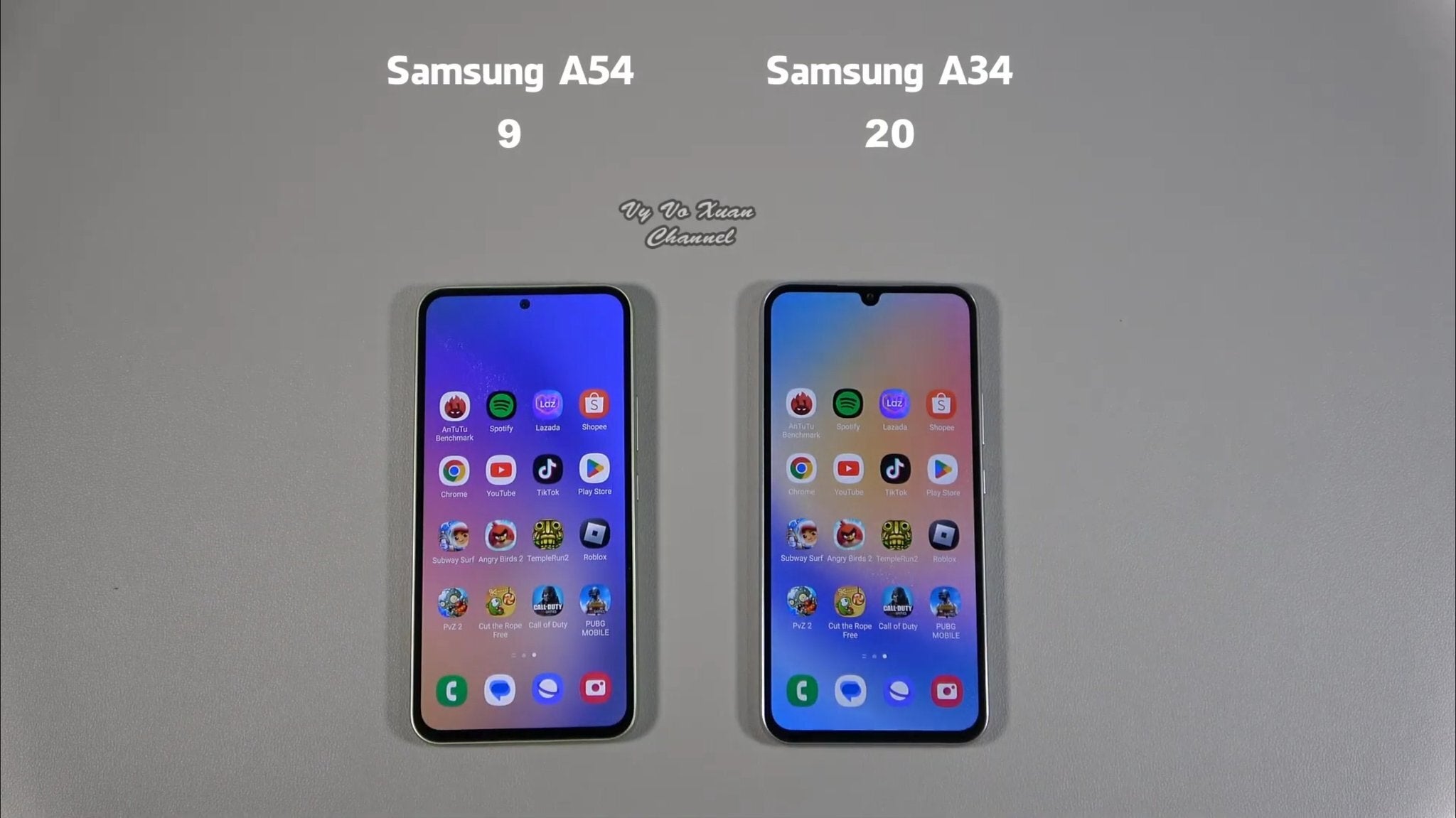 In a recent real-world speed test, the $300 Galaxy A34 was faster in opening apps than the Galaxy A54. Final score? 9-20.
Now, design aside, there's another potential issue with the Galaxy A54…
Sure, benchmarks from Samsung's new Exynos 1380 are out now, and they are just as underwhelming as expected – Samsung made a choice to go with another mid-range Exynos, and that's it. But what's particularly surprising here is the early real-world speed test that I stumbled upon, which is telling (once again) a different story. Another story where the Galaxy A54 doesn't seem to come out as the winner when compared to a cheaper Samsung phone.
As you can see in the YouTube " target="_blank">speed test between the Galaxy A54 and Galaxy A34 done by Vy Vo Xuan, the new $300 Galaxy A34 seems to be opening apps faster than the more expensive Galaxy A54. Why is that? Well, since both phones run the exact same software and come with the same amount of RAM (6/8GB), the obvious differentiator must be the processor.
Although the MediaTek Dimensity 1080 used in the Galaxy A34 and the Exynos 1380 in the Galaxy A54 are about on par according to benchmarks, the cheaper phone seems to be snappier.
Anyway, the real question we should be asking isn't
why the Galaxy A34 appears to be faster than the Galaxy A5
4 but why is the performance between two phones in a rather different price segment so similar in the first place?
Of course, for people in the US, this wouldn't really matter, as the Galaxy A34 isn't expected to launch there in the first place – but that can't an excuse.  The Galaxy A54 is just about the only Samsung mid-range phone sold in the US, which should only be a reason for it to be… as good as possible. Right?
Galaxy A54 – a very good $450 package but Google's Pixel flagships will eat Samsung's phone for breakfast (Pixel 7a is almost here now)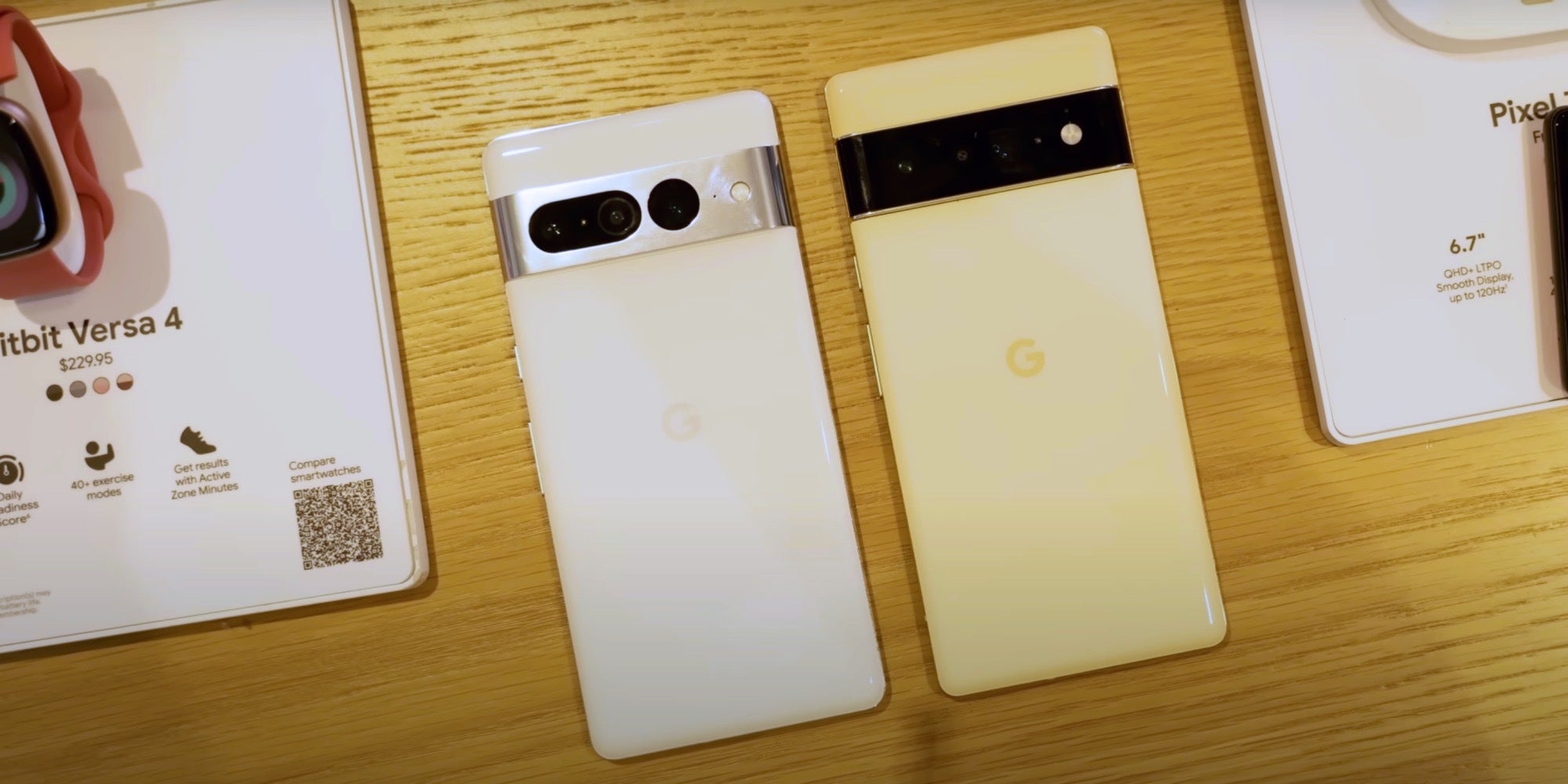 Would you buy a Pixel instead of the Galaxy A54?
So, yes… The Galaxy A54 remains one of the most appealing mid-range phones on the global scene but unlike previous years (I'm referring specifically to the Snapdragon-powered Galaxy A52s), a great deal of the appeal is that the A54 is going to be sold in more regions of the world compared to competing devices – availability counts. Apart from that:
Galaxy A54 promises a brighter display than the Galaxy A53
Galaxy A54 brings a new, larger primary camera sensor, which should help with photos and videos at night
Galaxy A54 offers 4 years of Android updates and 5 years of security patches, which is a valid reason to choose it over a Chinese phone with better specs
And yet, if the availability stars align for you, the Galaxy A54 is about to face the toughest competition Samsung's ever seen in the mid-range phone segment.
Not only is the flagship Pixel 7 only $70 more expensive than the Galaxy A54 right now, but Google's 2021 flagship phones are
cheaper (!)
 than Samsung's new mid-ranger. You can currently find a renewed Google Pixel 6 for just over $200 on Amazon, while the amazing Google Pixel 6 Pro can cost less than $350.
Even if you don't have an extra $70 to spare or buying refurbished isn't your thing, then waiting might be your best friend and Samsung's biggest enemy. That's because the Google Pixel 7a (that's leaking all over the place now) is knocking on the door. With a flagship-grade Tensor G2 chip, rumored wireless charging, and Google's expert camera magic, the Pixel 7a is shaping up to be everything the Galaxy A54 wants to be but can't.
Everything Everywhere All at once going wrong with Samsung's mid-range phones: How far (back) is Samsung going to go?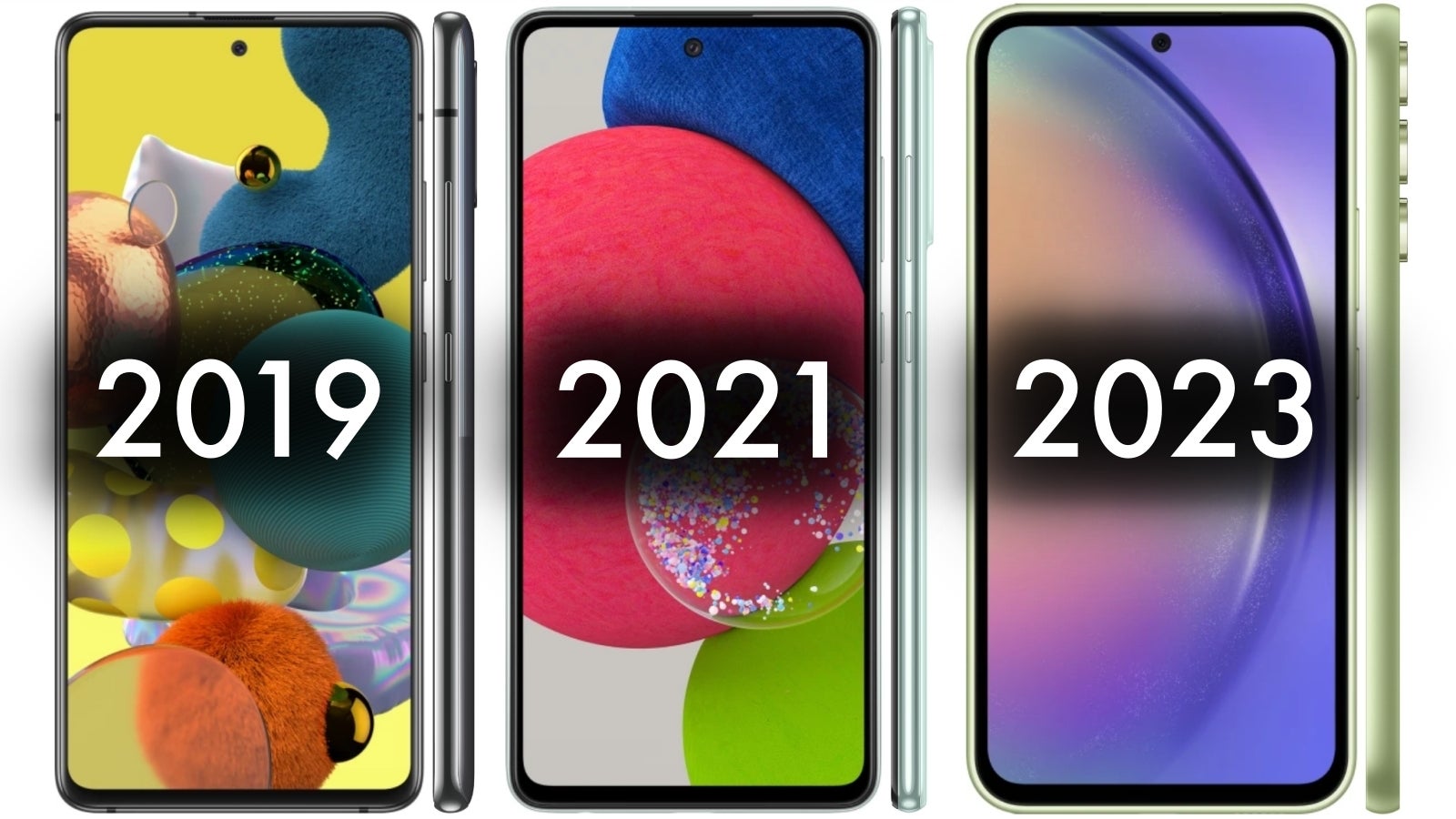 It's getting increasingly harder for Samsung to make "the perfect mid-range phone" as the company also makes the flagship Galaxy S23 and wants people to buy… more of it. It's a tricky balancing act where Samsung has a lot to lose. Unlike Google, which doesn't even rely on selling phones to make money. It's what one would call "the perfect storm.
I don't know if it's the financial crisis or a sheer lack of will but something got to Samsung. You don't make your new phones look worse than their predecessors for no reason. And because this is an editorial piece, where I get to share my take, the way I see it is that Samsung was caught unprepared. By a number of factors…
The global chip shortage
The global financial crisis and inflation
Google's super-aggressively priced Pixel phones
Apple's incredible ability to sell old/refurbished iPhones
And most importantly, the high bar that Samsung set for itself some time back in 2019
Of course, Samsung doesn't want to make worse phones. However, it does seem like the Galaxy A54 is the result of poor timing. If the A54 was released in (let's say) 2019, it would've been a hit – well, we don't know that for sure, but it would've been far more impressive, at least. Instead, Samsung released a great-looking mid-range phone four years ago, which now makes the cost-cutting, 2023 version of this phone look like a downgrade (aesthetics-wise).
The aggressive mid-range segment competition from Google, OnePlus, Xiaomi and even Nothing, doesn't help Samsung's case either. And despite all of that, if a good mid-range Samsung phone is what you're after, the A54 might still the best (and maybe even the only) option for some of you! If you look at it in isolation, it's still… you know – a great package.
Is it good enough for you? I'd wait for our full review to find out. Stay tuned!


2023-03-18 15:27:16